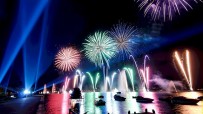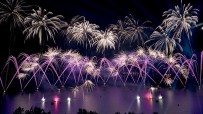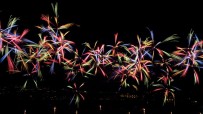 Pyromusical show is a timeless emotion
The union between fireworks and music gives life to a magical show characterized by fireworks blown up to the rhythm of music: an incredible and extraordinary entertainment show
Video
Pyromusical show
Pyromusical show was born from the continuous research of new, innovative and original solutions in fireowrks shows creations. In this way we can say you are "feeling" not a simple fireworks show but a unique emotional show that's the union between fireworks and music.
Pyromusical show ….. the timeless emotion of the perfect show for every event
The organization of a pyromusical show is the result of masterful studies about the chromatic acclaim and pyrotechnic symmetries, which are mixed in a harmonious way, in order to give emphasis and prominence to the great emotional soundtracks created specifically for every single event. Attending a pyromusical show is synonymous of living an extremely emotional moment, able to excite and astonish the audience of any square, night event, outdoor celebrations, luxury weddings, gala dinners, or corporate event.
Always a tailored pyromusical show
The incredible mastery and creativity employed in order to combine all of the elements needed to create a perfect pyromusical show, allow our entertainment company to suggest always tailor-made pyromusical shows, in order to satisfy any kind of situation or event. The choice of colors and fireworks effects, soundtracks, structures of the extraordinary conclusions of the show, symmetries of the shining contrails, and the audio impact of sophisticated musical reproduction systems, are just some of the essential elements to create pyromusical show blown up to the perfect rhythm of the music.
Pyromusical Shows, the evolution of an Italian excellence in the world
With the organization of this kind of pyromusical show, you will be sure to astonish your audience with a cherished and polished entertainment that far exceeds a traditional fireworks show. The pyromusical show has the great versatility of the traditional pyrotechnical usages, of which Italy is synonymous with excellence throughout the whole world , but evolves it into something special that is a step ahead traditional fireworks displays.
In a pyromusical show, loud music is important
With the help of loud music, the emotional aspect of the pyromusical show is extremely stimulated and will take any kind of audience to an incredible and breath-taking experience. Therefore, attending a pyromusical show is the perfect entertainment's choose that our show agency suggests for any event.
Pyromusical show, entertainment solution for all venues
The proposal of a pyromusical show It's perfect for big city parks, on the seaside or on top of the quiet waters of a lake. WIth Pyromusical show you will be sure you're attending to an astonishing and extraordinary entertainment characterized by unprecedented beauty. Thanks to its emotional nature and to the possibility of being tailor-made for any kind of event, the pyromusical show can be the main entertainment for any kind of celebration. It's perfect for private or public events, for luxury weddings, corporate gala dinners, art exhibitions or cultural celebrations, and is the kind of entertainment that all audieces always loves, without any kind of linguistic or cultural barrier.