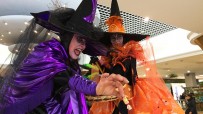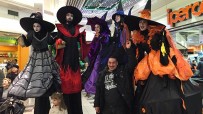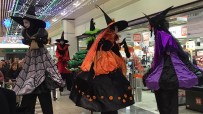 Witches Parade on stilts
A lively and joyful street artist parade, inspired by imaginary witches' world and by their magical filters...
Video
Witches Parade on stilts
Witches Parade on stilts proposed by our Show Agency and Management is a street artist animation inspired by benevolent witches. In past times, witches were common women, interested in supernatural and mysterious practices, which could be benign or wicked. Witches are a common subject since ancient times in many populations' culture. Then, during the years they changed context and background. The day of the year in which Witches come back to the earth and fill the sky with their magical brooms is Halloween, an Anglo Saxon festivity which has Celtic roots as well, celebrated on the 31st of October. Our Witches Parade on stilts can be the perfect entertainment for the organization of those events and public performances which need to develop a continuous and itinerant show through streets or itineraries, or in situations such as Horror Shows and Halloween Shows in which it's important to have a height-developed entertainment in order to be visible to the audience. Witches Stilt Parade is a very versatile and eclectic street art theatre: it can both be the perfect animation for children and for adults during Horror Shows and Halloween shows. Itineraries and composition of the Witches Parade street theatre can be personalized and adapted to events such as squares' animation, shopping malls, white nights, bonfires, historical commemorations and animation shows for children. Witches stilt parade is the perfect entertainment for every kind of public, with no language or origin barriers. The irreverent Witches, performing on stilts will entertain any kind of event with their colourful clothes, distributing magical filters and potions, with the help of the Apprentice Wizard. During the Witches Stilt Parade street theatre, the magical helper of the Witches will complete the beauty of this itinerant Street Theatre with his fantastic musical cart or with accompaniment music. Witches will dance to the rhythm of magical nursery rhymes and will cast prodigious spells with their enchanted twirls. During the evening time, the acrobatic stilt parade of these amazing street artists will be filled by the lights of magical brooms through the streets. Witches' Stilt Parade is perfect for summer white nights, during the coloured Carnival afternoons, during the magical Epiphany night. Our Witches, performing on stilts, will bring the irreverence and superstition of these mysterious characters to your event, creating a emotional and original street theatre that will entertain any kind of public.