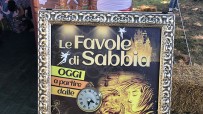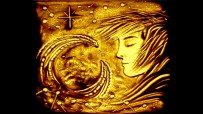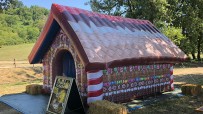 An amazing sand art kids entertainment
A kids entertainment with the most beautiful Italian fairy tales told with sand art for a suggestive and emotional animation show
Video
Sand Art kids entertainment
The fairy tales' house is an original sand art's kids entertainment, thought in order to astonish and amaze any kind of public, from the youngest to the oldest. With the masterfulness of a professional narrator, young and adults will be enchanted with the most beautiful Italian fairy-tales for children attending to a unique sand art kids entertainment.
An amazing sand art entertainment for kids
Through their words and sand shaping on music background, the protagonists of the most famous tales ever and their incredible adventures will take life, enriched by a narration strengthened and emphasized by little magic tricks. Thanks to amazing sand artists and to this sand art kids entertainment, all children will find their favourite fable's protagonists in a graphic representation realized with the incredible sand art performance.
The magic of light, sand and music to create an unforgettable sand art kids entertainment
Sand art is a very suggestive and magical technique, which is realized by great sand artists who will recreate on a shining board the incredible adventures of the most beloved Italian fairy-tales, with their skillful hands. During a magic afternoon all ages audiences will attend the incredible adventures of Pinocchio, of the romantic Cinderella, of the three funny little pigs, and many others becoming a kids entertainment not to be missed.
Great suggestion with the right background music
The fundamental ingredient for a great emotional impact during these kids entertainment is the background music. The figurative nature of this sand art kids entertainment, makes sand art show really understandable by all ages and origins audience, thanks to its "no barrier" nature. Choosing a sand art kids entertainment is the perfect solution to entertain kids and families in squares, malls, city centers, and outdoor events. The strong evocative impact of the big inflatable fairy-tale house, create a magical space in which fantasy becomes reality and everybody magically returns back to youth. The Fairy Tale House and its sand art kids entertainment represent a particular entertainment solution, able to connect four fundamental elements in a unique show:
1. The taste of fairy-tales telling to take everybody back to youth
2. The modernity and technology of a video-musical projection
3. The creativity of masterful sand artists and narrators
4. The direct contact between public and sand artists
Everything is mixed in an afternoon full of fun thanks to continuous entertainment shows.
Special Christmas Edition …. Sand Art kids entertainment for Christmas
Fairy Tale House and sand art kids entertainment also have the possibility of being modified in order to perfectly match any kind of event and celebration. That's why our sand art kids entertainment also has a special version of its performance. Our international events company "Prestige Events" realized, in order to create the perfect entertainment for Christmas events, a special Christmas edition of sand art Fairy tale house taking on stage the story of Nativity. With its originality and creativity, Fairy Tale house and sand art is the perfect entertainment for astonishing any kind of audience at your event