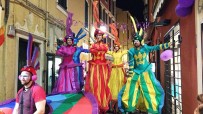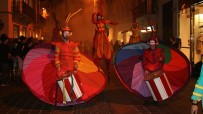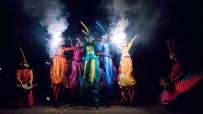 An amazing and colorful parade on stilts
Rainbow parade on stilts is a colorful musical parade performed by stilt walkers, inspired by rainbow colors for a joyful walking act show
Video
Rainbow parade on stilts
Rainbow parade on stilts is a stilt walking act of street theatre realized by colorful stilt walkers. A walking act show inspired by rainbow colors and characterized by an itinerant musical accompaniment. Rainbow parade on stilts show is composed of a minimum of 5 stilt walkers and is the perfect kind of entertainment for those events and celebrations in which it's important to have a height-developed entertainment because of the amount of the attending audience. Prestige Events designs and creates innovative street theatre entertainments such as the parade on stilts, in order to allow every audience to see and enjoy the dynamic entertainment at any distance, with no restriction of a static stage show.
Rainbow parade on stilts is the perfect solution to entertain any kind of audience, from the youngest to the oldest, families, tourists, and street theatre lovers thanks to the incredible fascination that stilt walkers always stimulate in our fantasy
This street theatre show is characterized by the captivating entertainment of the percussive musical accompaniment, following the Rainbow parade on stilts for its whole duration. The walking and musical nature of this street theatre entertainment is perfect to enhance long itineraries such as the ones in Malls, city centers, old town's streets, city squares, parks, and entertainment locations. The particular costumes used by the stilt walkers of this walking act, contribute to the realization of a colorful and dynamic street entertainment: in addition, the great and impressive choreographies performed by stilt walkers are especially studied for every event, in order to realize a unique, pleasant and amusing walking act entertainment experience.
Music and stilt walkers for an incredible street parade with the colors with the rainbow
The musical section of the Rainbow parade on stilts is studied to strengthen the emotional impact on all ages and origins audiences ensuring a perfect entertainment. Rainbow parade on stilts has the perfect skills for being both a great walking act and great entertainment for malls, squares, parks, business events and celebrations, weddings, and anniversaries.
Rainbow parade on stilts and its night version: the masterful use of Fireworks effects, lighting pyrotechnical effects, and juggler's entertainment
But Rainbow parade on stilts has also a night version with the beauty and evocative effect of sparkling lights. This special version of a unique walking act on stilts is composed of two appearances, each one of 45 minutes. Rainbow parade on stilts is the perfect theatre show that will bring colors, music joy, delight, and fun to your event. This show is the most beautiful and colorful parade on stilts in the world.