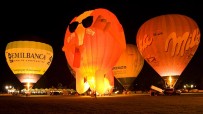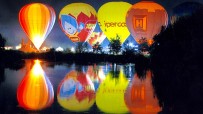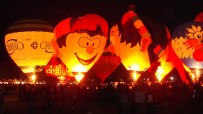 Night Glow Show
It's night glow time: entertainment to give the emotion of hot air balloons lighting up the night sky glowing to the rhythm of the music
Video
Night Glow Show
a big size balloon entertainment for night events
If you don't know what we are talking about, well you've never attend a show one of a kind like only hot air balloon night glow is! Everyone who seen a night hot air balloon glow has never forget it and has never find entertainment more emotional than the one our international events company is proposing you: the night glow with hot air balloons.
Balloon Night glow, the most beautiful way to entertain with hot air balloon
To organize an hot air balloon night glow means to ensure an unforgettable entertainment in your events. We are talking about a big glowing Hot Air Balloons show generally part of air balloons festivals schedule and representing the extraordinary innovative entertainment idea for big outdoor locations. Night Balloon Glow is based on the unusual employment of hot air balloons, and exploits their majestic and evocative power in order to create a unique and original show. During a Balloon Night Glow Hot Air Balloons are set in a symmetric position into the launch field and anchored to the ground with specific ropes that keep them anchored to the ground instead of to let them ascend. Then Pilots let the burners ignited periodically to keep the balloons inflated with hot air and at the same time let them sparkle in the night. All these operations are coordinated to be at the rhythm of the music to ensure all people attending this magic, to see the best big show ever seen.
The power of balloon night glow show
As the dedicated soundtrack starts to play, people of all ages, all languages and all origins is immediately involved into this big show thanks to the dynamic and captivating music. Then, the big Hot Air Balloons start a unique dance made of lights, exploiting the natural flame's glows coming from the burners, which illuminate the inner part of the Air Balloons. During a Balloon Night Glow event, Hot Air Balloons are illuminated like huge and majestic colored lamps. The masterful Pilots are lighting and extinguishing the flame and illuminating every Hot Air Balloon according to precise choreographies and captivating rhythms. This kind of special use of hot air balloons is an entertainment choose for special big events. Night balloon glow is a special entertainment, the only one able to give great share emotions.
What it's important to say about night balloons glow show's organization
The organization of entertainment with Hot Air Balloons, like a night glow show, needs big locations for its realization, and it's perfect for embellishing Hot Air Balloons festivals and big public events. Hot Air Balloons' world is actually a growing sector, with a huge number of people interested in flying but today is still a niche sector. Therefore, it's quite rare to observe a night balloon show, such a beautiful and astonishing show, characterized by precision and suggestion, and this makes it a great alternative to classic Fireworks displays. This is a strong reason to choose balloon night glow if you want to astonish the audience of your event.
Night glow with hot air balloons, eco-friendly entertainment
The eco-friendly nature of great Hot Air Balloons makes night balloon Glow a great solution to an organize environment-friendly entertainment, with no contamination risks and non-polluting for the nature. Night balloon glow is perfect even to make entertainment in valuable places such as natural oasis, theme and national parks. Furthermore, if the place has the right area's prerequisites, our international events company suggests Night balloon Glow as the winning closure show during events with a big touristic turnout, events for families, nights events, cultural and institutional celebrations, as well as ecology Festivals or corporate events needing to let people breathless . Bring the magic of a night balloon glow atmosphere to your event and your event will fly high.