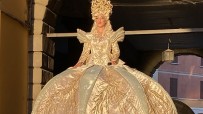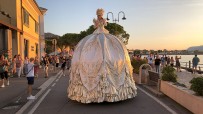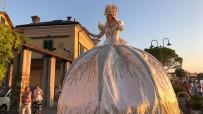 Musical roaming acts Madame Opera
Madame Opera with her musical roaming acts, is the new walking act made in Italy, a street theatre tribute to the world-famous Italian Opera, available worldwide
Video
Musical roaming acts Madame Opera
Madame Opera has been called the Queen of Street Performers by the media because she is the first lyric and pop-lyric singer to perform roaming acts in a real walking act concert. This original walkabout entertainment, almost 4 meters tall, appears to the public in a marvelous 18th-century dress made in Venice by Italian dressmakers, it's all lighted up in the evening, performs a roaming concert with an extensive international repertoire of songs by Andrea Bocelli, Lucio Dalla, Adele, Celine Dion, Noa, Edith Piaf and much more... all in a lyric and pop-lyric version that satisfies audiences of all ages, languages and nationalities. In this unique walkabout entertainment, a 2800-watt sound system is placed under the large skirt, and the whole thing is placed on top of a custom-built structure that moves on wheels, that can majestically walk on any type of road, even on hillsides so it permits to Madame Opera to do her roaming acts by passing around all the city streets, without any pavement problems. The Queen of street Performers can be admired while she magically sings in rotation of 360 degrees like a big ancient musical Carillon which it's a typical creation among the several street theatre acts made by Prestige Events. With the unexpected appearance of Madame Opera in the middle of the crowd with her magical singing and her marvellous costume enriched with shiny precious stones leaves them with a "wow effect" never witnessed before in walkabout entertainment. This great attention to the emotional side of our roaming acts is the basic concept of each street theatre acts created by Prestige Events.
Outdoor and Indoor roaming acts
Madame Opera with her roaming acts is a fusion of technology, robotics, and manual artistic work within street theatre acts production. The complex structure of this walkabout entertainment allows the great lady to walk slowly and majestically, thus confirming her walk, a typical feature of the most demanded street theatre acts. The roaming acts of Madame Opera can be performed indoors and outdoors thanks to its wheeled system. It is thought to be performed along streets, city avenues, squares, and malls. Madame Opera is a real eye-catcher to brighten up the most important events with a unique walkabout entertainment such as Christmas night in the city, corporate events, Halloween events, Festivals, Shopping Mall Entertainments and activations, Road Shows, Gala Dinners, and much more. With the Queen of Street Performers, you will be able to bring the wonderful fusion of the tradition of Italian opera singing and new technologies to the scene of your events. You will admire a blending of past and future that turns into a poetic fusion with one of the best roaming acts 100% Made in Italy. All this will be the guaranteed success of a unique and unforgettable event with this extraordinary walkabout entertainment.
Christmas roaming acts
Christmas this year is going to be different with the Queen of Street Performers, with her roaming acts, performing the BEST Christmas songs of Mariah Carey, José Feliciano, Michael Bublé and much more. This fully Christmas walkabout entertainment is guaranteed to impress guests at any Christmas event with its wonderful repertoire through conveying the spirit of Christmas to all spectators and get them to feel, experience and live the real Christmas. By this walkabout entertainment, Madame Opera get to be the first to perform Christmas roving concert. Soon it will be online with her videos and photos.