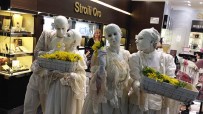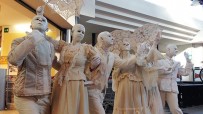 Walking act living statues of baroque age
Magic white Baroque living statues, joined to music's suggestion for an extraordinary street theatre walking act
Video
Baroque living statues
A walking act one of a kind
These baroque living statues, dressed up in Italian baroque's dresses, are the perfect street theatre show thought to enhance streets and square, and to entertain events with more attraction points. Baroque living statues performances is characterized by a continuous interactive walkabout act, perfect as entertainment for Malls, city centres, wedding parties, business celebrations, convention and corporate events, anniversaries, and street theatre festivals all over the world.
Baroque living statues … a taste of a unique walking act
White presences will talk with you in perfect silence, living statues moves slowly along street and city's gardens, a light background music makes this strange atmosphere really magic. Candid Baroque living statues will take life through the elegant movements of street performers that move slowly along streets, arcades, looking for the meeting and interaction with their all ages audience. People attending baroque living statues walking act will transported in a surreal dimension where stillness takes life and communication doesn't need any word…. only the emotion. Baroque living statues will adorn streets, squares, and events, creating beautiful pictures and embellishing glimpses and city corners with their celestial purity
Baroque living statues, a no barrier performance for a universal show
Baroque living statues is the street theatre performance that needs no words to astonish its audience. You have only to see and let your heart speak. The power of the evocative images that living statues show to people attending this interactive show parade, makes this walking act the perfect solution to entertain every kind of event in every part of the world. The power of a street theatre performance based on music and "visions", generate a no barrier entertainment able to enhance all ages and origins audience. The elegance of white Baroque dresses end the silence of this performance, make it the perfect choose for corporate events, conventions and wedding parties too. You are in front of one of the most amazing walking act ever. White presences will talk with you in perfect silence, living statues moves slowly along street and city's gardens, a light background music makes this strange atmosphere magic, let see to believe!
Baroque living statues' entertainment … a taste of unique walking act
The group of white living statues, dressed up in Baroque's dresses, will create real pictures integrating themselves with the urban architecture, with the cities squares' and monuments, with Malls' galleries, creating a strongly emotive exchange between the audience and street performers. Living statues walking act is the street theater entertainment that wants to go beyond sculptural traditions' limits, made of shapes and static volumes. Slow and elegant movements of walking living statues, with their quiet contact with the audience, with the astonishing and elegant pictures realized by this street theatre entertainment, will emphasize the spectacular strength of the gesture as a communicative and universal language.
Baroque living statues a show that enhances
Finally, the suggestion of baroque's music strengthens the emotion of a unique show of its kind. The walking living statues of this street theatre, can perform a Christmas version of their show as well, with the "Christmas Angels" performance. During this version, the itinerant show is performed by street artists dressed up as pure white angels. These walking act of living statues will bring a magical atmosphere to your event, and take the public to a charming reality where they will accompany them with their quiet movements, integrating themselves in the urban architecture and giving life to incredible pictures, where the city becomes a real picture frame… and you will part of this masterpiece!