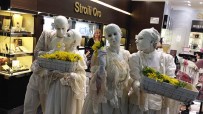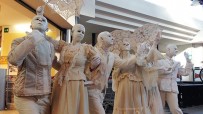 Itinerant living statues of baroque age
Magic and pure white living itinerant Baroque's statues, joined to music's suggestion for an extraordinary Street Art Show...
Video
Itinerant living statues of baroque age
This itinerant living statues, dressed up in Italian baroque's dresses, are a perfect street theatre show thought for the value of itineraries and streets, and for the organization of events with more and more attraction points. The organization of this street theatre performed by living statues is characterized by a continuative animation, perfect for the entertainment of shopping malls, city centers, weddings, business celebrations, anniversaries and square events. Candid Baroque living statues will take life through the elegant movements of the Street Artists performing them and slowly moving through streets, villages and arcades, looking for the meeting and interaction with the public. With the presence of living statues, City squares, shopping malls and public parks are transported with their public in a surreal dimension, where stillness takes life and communication doesn't need any word. The extraordinary living statues, with their celestial purity, will adorn streets, squares and events, creating beautiful pictures and embellishing glimpses and city corners. This group of living statues dressed up in Baroque's dresses will create real pictures, integrating themselves with the urban architecture of the cities and shopping malls' galleries, creating a strongly emotive show between the public and street artists. The living itinerant statues show is an entertainment which wants to go beyond sculptural traditions' limits, made of shapes and static volumes. The slow and elegant movements of these itinerant living statues, with their quiet contact with the audience, the astonishing and elegant pictures realized by the street theatre, emphasize the spectacular strength of the gesture as communicative and universal language. Finally, the suggestion of baroque's music strengthen the emotion of a unique show of its kind. These itinerant living statues of this street theatre can perform a Christmas version of their show as well, with the "Christmas Angels" performance. During this version, the itinerant show is performed by street artists dressed up as pure white angels. These itinerant living statues will bring a magical atmosphere to your event, and take the public to a charming reality where they will accompany them with their quiet movements, integrating themselves in the urban architecture and giving life to incredible pictures, where the city becomes a real cornice.