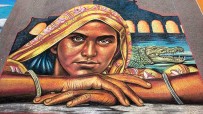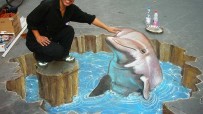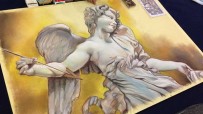 An open-air art exhibition
Choose Florence street painters for your elite event. The amazing creativity of these street painters becomes an open-air art exhibition
Video
Florence street painters
Florence street painters are masterful street artists who transform pavement areas into real art masterpieces, which are appreciate until rain wash away their colors.
Florence street painters entertainment ….. not an ephemeral street art events
Our international events company "Prestige Events" decided, thanks to its multi-year experience, to realize festivals and celebrations dedicated to these amazing street painters. The event is composed of a live performance of Florence street painters that will realize, during an afternoon, astonishing art masterpieces, creating innovative and original paintings that will amaze any kind of public.
Street painters are also called screevers
All of these paintings of street painters are realized during an afternoon of continuous street entertainment, in which it's also possible to find an edutainment area where families and children can have fun together. The great impact of Florence street painters' show will take the audience into a magical journey through pictorial productions and innovative art masterpieces, which take life from Florence street painters' chalks in front of the astonished spectators. Many are the names to identify these incredible street performers, called also screevers, but the fun and the magic of their live street entertainment is unique.
An Italian street art entertainment for international audiences
Florence street painters are famous all over the world and they're protagonist of the perfect street entertainment in events organization and to entertain recurrences characterized by an all ages and all origins audience thanks to its no barriers nature. Art is a universal language so we can say that Florence street painters is the perfect entertainment for all kind of event.
Florence street painters' entertainment ….. tailored solutions for corporate events too
The great possibility to tailor the content of Florence street artists' paintings, is the perfect way to enhance corporate events and team-building too. Every participant is called to take part of a special fun entertainment that makes possible to translate in images the contents of conventions and corporate workshops. The presence the children's lab makes this entertainment a perfect choose for family's days allowing everybody to enjoy the event. All of these elements make Florence street painters' entertainment the perfect entertainment solution for any kind of event or celebration. With the great skills of reproducing the most famous international masterpieces and their brilliant portraying abilities, Florence street painters make this initiative an original and elegant solution for private events, institutional celebrations, luxury weddings, and gala dinners.
Florence street painters and 3d art!
The introduction of 3d paintings realized by Florence street painters makes this great entertainment a perfect element for business marketing, mixing the innovation of new graphic techniques with the masterful use of colored chalks. Choose a street painters entertainment is a great, unusual, and original way of filling your event with art and joy, creating a magical atmosphere in which everybody will be transported into a charming and fascinating world. All of the 3d pavements masterpieces realized by street painters can have a common theme and be personalized.