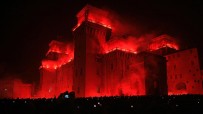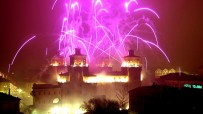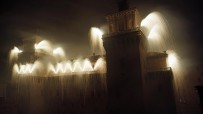 Musical fireworks applied to monuments and the buildings
The grandeur of a show that will leave everyone breathless with monuments and buildings come to life under a dress of fireworks dancing to the rhythm of music.
Video
Fireworks on buildings
Pyromusical shows applied to monuments
During the silence of expectation, the buzz of the audience spreads through the darkness waiting the beginning of an incredible fireworks show applied on monument. The building becomes the main, majestic, and absolute protagonist of an unprecedented Pyromusical show. Extraordinary applications of fireworks on monuments, become a blanket made of sparkling-lights which that dance to the rhythm of music. Fireworks on monuments and building is the latest innovation in pyromusical shows' organization. Choosing a show of fireworks on buildings means left all audience without words. When you've seen a show of fireworks on building, you'll never forget it anymore!
Fireworks on buildings, the importance of music in pyromusical shows
The aim was to create a real and incredible handmade "firework dress" on buildings and historical monuments and dress up them. Our international events company want always to propose a unique and incredible entertainment for big events able to amaze the audience with a strong emotional impact, and to surprise young and old people with a skillful use of fireworks dancing to the rhythm of music. Music, in pyromusical show, is not just an background. For shows of fireworks on buildings, music is the most important element together with fireworks!
State-of-the-art technology for fireworks displays on buildings ... much more than fireworks shows
New and modern technologies made possible to create a show of fireworks on buildings synchronizing all to the rhythm of music. So Prestige Events Staff and pyrotechnical technicians proposes and realizes unforgettable pyromusical shows applying fireworks on buildings and always guaranteeing the beauty of unique fireworks shows, realized with excellence and precision, and with a great preciousness and rarity. The show of fireworks on buildings and on monuments is not only a firework show, but much more.
Why choose a show of fireworks on buildings
Fireworks on buildings is the perfect entertainment solution to enhance event reaching the artistic, cultural and spectacular aspects of historical monuments and buildings by heading the light rays on the great architectural, national and international heritage. Attending a Show of fireworks on buildings, means attending to a great shared and never seen before emotion.
Fireworks on buildings, a long planning work for a unique pyromusical show entertainment
The show of fireworks on buildings requires the strategic placing of fireworks along courses, balconies, towers and columns of historical monuments, in order to value, with the help of lights and pyrotechnical effects, the architectural particulars. Fireworks on monuments' show is the end of a long conceptive and planning process realized by our international events company, which starts from the realization of tailor-made soundtracks, and arrives to the creation of a real choreography made of lights, contrails, sounds and colors that exploit symmetries to the rhythm of music in a unique and unrepeatable experience. Prestige Events grantee always tailored shows of fireworks on buildings Uniqueness and originality are the main elements that Prestige Events Show loves use in order to sign its shows and events. The Pyromusical show of fireworks on buildings we offer, is a innovative and exclusive creation: it is never the same and it's strictly connected to the monument that it gets to value. It also consists of the employment of tested pyrotechnical materials and of more and more precautions in order to safeguard buildings. The organization of pyromusical show on monuments is seen as the flagship of many foundations and public and private events, but also as the outstanding moment during the organization of corporate events, festivals, new openings, twining events and for all those situations which have a big touristic acclaim.