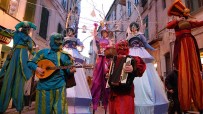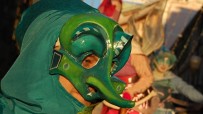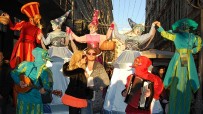 Fairy tales parade on stilts
A parade on stilts inspired by the world of fairy tales with elves, fairies, and sprites, will give life to an amazing walking act show
Video
Fairy tales parade on stilts
As the sun goes down during the evening, they leave their nests, together with the sound of crickets, following the glowing contrails of fireflies, and arriving in the town in order to fill up streets and avenues. Who are they?
They are the protagonists of the Fairy Tale parade on stilts
a singular walking act of street theatre to perfectly entertain events in malls, weddings, and corporates. Extraordinary Stilt Walkers will walk through streets performing astonishing acrobatics choreographies, with the help of the fast jumps of the little sprites or the graceful movements of the shining fairies, exhibiting on an walking musical background performed by other street performers. The big production of texts and illustrations about these incredible night creatures inspired our international events company to produce and organize an incredible walking act you'll never forget!
The great fascination that magical creatures have on every kind of audience makes this parade on stilts extremely appreciated in Italy and abroad
With Fairy Tales parade you will attend to a magical interactive walkabout act where audience and street theatre performers on stilts come in contact through the distribution of candies, matched to a joyful live music, and to the great attractive power of stilt walkers' costumes colors: these are the perfect elements for the organization of an itinerant entertainment show. Fairy Tales parade on stilts is a street theatre performance thought to entertain young and old audiences, families, events in malls, public recurrences in cities or along streets, street festivals with street theatre performers or private events such as luxury weddings, corporate and gala dinners.... And at the end .... just like in the most beautiful and famous fairy tales, as well as the moon reaches the sky, the magic creatures say goodbye to young and adults, for joyfully coming back to their beautiful enchanted world.
Fairy Tales Parade in Doha: a great entertainment for the Doha's Spring Festival
Among the many participations of fairy tales parade on stilts, in international street theatre events and street festivals, a very important one is the Doha Spring Festival, in Qatar, where the fairy tales parade on stilts has performed as the main entertainment of the event. As well as in the most beautiful novels and legends, with this fairy tales parade on stilts, Fairies and elves come to city bringing joy and protection to the youngest people, and to all people able to still observe the world with the eyes of a kid. Fairy Tales parade on stilts is a walking act with a great visual impact on the audience, thanks to the beauty and to the colors of the amazing and particular costumes of the street performers on stilts. Fairy Tales parade: an international show parade of stilt walkers for your event!