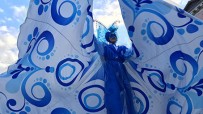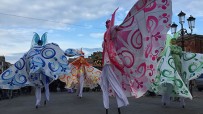 Butterflies: a colorful stilts walking act
The magic of spring colors in an unforgettable street entertainment, a scenographic stilts walker show musical and amazing, your perfect stilts walkers parade!
Video
Butterflies stilts walking act
Unforgettable street entertainment of stilts' walkers for events with colorful butterflies' costumes
The joy of color, music, and dance transforms itself into a spectacular parade of stilts walkers. With Butterflies Parade on stilts, Prestige Events management company's Team of events planners offers a scenographic and musical waking act of street performers on stilts inspired by the joy of color. An incredible stilts walkers show with colorful butterflies' costumes will dance and walk streets and squares of the city, moving impressive great colored wings with a width of 3.5 meters.
An explosion of color and music for an unforgettable walking act of street artists on stilts
Butterflies' Parade on stilts wants to greet the arrival of spring and summer with their joyful colors and perfumes, thanks to the ability of masterful street artists on stilts. The idea of this amazing street entertainment is to put on the stage the most elegant and colorful element of nature, the real symbol of summer and spring: the butterfly. So here are graceful and colorful butterflies on stilts, a real explosion of colors accompanied by music to create amazing street entertainment. Need more help? Contact our events planner to know more
Why are butterflies on stilts the perfect walking act solution as street entertainment for every event organization?
Because they're a walk act on stilts able to amaze young and old: with incredible visual power, walking acts are always the best solution of street entertainment to amaze any kind of public, from the youngest to the oldest. Street artists on stilts will create a joyful and emotional atmosphere with their elegant and graceful steps through streets, avenues, squares, and historical centers. The big wings' opening of street artists' butterflies, the beautiful and gaudy colors of their show costumes, the suggestion created by classical music, and the vertigo of a walk act on stilts are the perfect elements to realize an unforgettable stilts walkers parade. Butterflies on stilts are perfect to be involved in the organization of any kind of event. Dancing Butterflies on Stilt is the real walking acts suggested by our event planners to be the perfect animation of street entertainment for avenues, squares, historical centers, and shopping malls, and public events.


Because butterflies on stilts is a walk act elegant and without language barriers. The universal language used by walking acts on stilts, allows the creation of perfect street entertainment for every age, without any linguistic obstacle. But the elegance of Butterflies on stilts makes this particular stilts walking act still more ideal for corporate events organization and special recurrences like private weddings, gala dinners, corporate events, meetings, conventions, and institutional ceremonies.


Because butterflies on stilts have the great power of walking acts, they're able to make people of public events dream too. Butterflies on stilts parade can be appreciated even during events with big touristic attraction, thanks to the vertical development of this walking acts of stilts walkers. With their elegant movements and their colorful wingspread, the street artists on stilts will astonish and amaze any kind of public. The classical background music will accompany the butterflies stilts parade along its whole itinerary and will be the base of stilts walkers' choreographies. In a few words, the perfect solution for public events and buskers festivals.


Safe events with stilts walkers show. In order to respect the current rules on social distancing for safety into events, our Event Managers suggest and promote all our walking acts as the best solution to organize events avoiding gatherings of people and crowds. So Butterflies on Stilts parade will be the right solution to organize a safe event respecting the anti covid 19 measures.
Butterflies stilts walking acts: a unique street entertainment for a thousand kinds of events!
With Butterfly Parade on stilts, you will be sure to bring joy and happiness in your event. With this walking act, you are choosing to bring happiness in every corner of your event with an explosion of colors and tailor-made street entertainment in order to organize a unique and exclusive event in its kind.
Are there already enough reasons to choose butterflies on stilts for your event?