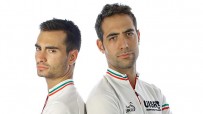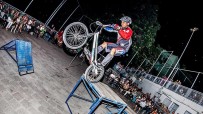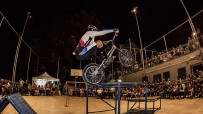 Bike Trial Show
Bike trial show is pure adrenaline for the audience with stunts, evolutions, and a lot of suspense
Video
Bike Trial Show
cycling performances become entertainment for events
Street Biketrial is a sport discipline born during the seventies, between Belgium and Germany, and concerns the cycling world. Bike trial consists of incredible street performances of athletes who, riding a special bike, pass with acrobatic moves a series of obstacles never touching the floor with their feet.
Biketrial Show: acrobatic performances with special bike to create a breathless entertainment
Biketrial's itineraries consists of jumps performed with a bicycles on platforms and obstacles put on different heights and levels. During a Bike trial show there are many balance challenges on thin walking-planks and as much are the strength and dexterity challenges that these athletes are masterfully performing with their mountain bikes. The organization of events and shows exploits the acrobatic, spectacular and exciting side of this incredible Biketrial Shows, in order to create dynamic, astonishing and breath-taking entertainments for television audience and for public events.
Street bike trial show…. a Guinness World Record entertainment
Thanks to this spirit and collaboration between our international events company "Prestige Events" and the Italian Champions of Bike Trial, who are owning the Guinness World Record title, it has been possible to realize a great entertainment show format that will astonish the younger and older audience with incredible acrobatic evolutions. Bike Trial Show is the perfect entertainment for malls, for corporate events and conventions, but it's also the perfect solution to entertain the audience of outdoor events with sport performances, or as amazing show for special recurrences such as new openings, adv campains and anniversaries.
Biketrial show … a "no barriers" show for international events' entertainment
Thanks to the great versatility of this Bike Show, it's possible to realize a great entertaining performance even in cramped spaces, since narrow and difficult location are the best places where the incredible Trial Bike Athletes and performers can show their skills and perform an extraordinary acrobatic bike trial show. Prestige Events suggests Street Biketrial show to entertain every kind of audience, for public events organization, for valuing urban spaces, night events, inaugurations and to amaze the audience of anniversaries and corporate event in a funny, original and unique way.
Team building and workshops for children with biketrial show
Street Bike Trial also represents a winning resource for the organization of business team building, placed both in indoor and outdoor locations, and also for didactic workshops for children through structured basic activities and small obstacle courses. Entrust the entertainment of your event to the amazing performances and sportive skills of these incredible Bike Trial athletes and amaze your public with breath-taking acrobatics and engaging obstacle courses.