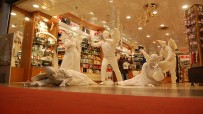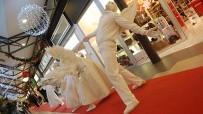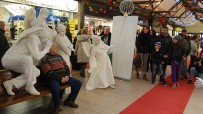 White living statues
White living statues are a kind of street theatre very innovative. It's a walking act and at the same time static show
Video
White living statues
Baroque theatre become an evocative walking act of street theatre
White living statues are protagonists of a suggestive show embodied by moving street theatre performers. White living statues entertainment was born by the variation of Baroque's static theatre, and it has been revisited in a new, fresh and original formulation, the interactive walking act one. According to street theatre tradition, white living statues is thought as an astonishing interactive walkabout act to in order to be a walking street theatre entertainment for event and celebrations. During this street theatre entertainment, communication between street performers and audience goes through the silence of the gesture and actions of white living statues. White living statues get in touch through their silence with people attending the show. This performance consists of the intervention of talented living statues as refined and graceful presences with their pure white color and their static and solemn appearance. White living statues are the perfect choice suggested by our international company entertainment to bring the Italian cherished and refined art to your event
White living statues, the magic of street theatre performance that is always new
As if by magic, the white living statues quietly walk through streets, squares, and malls, watching over people and standing by their side creating "real canvas", living portraits, incredible moving photos. The whole show structure is directed and choreographed in a masterful precision, measuring out the magic of music background that accompany the walking act, the mastery of the spaces in which white living statues perform, and the power of interaction with the audience as in the most beautiful street theatre entertainment. Thanks to these features white living statues are a walking act and entertainment show that our international events company suggests as the perfect choose to enhance city centers and malls, Christmas villages, and city squares.
With white living statues also the audience is part of the walking act
The public crosses the doors of the scene and becomes an essential part of the white living statues walking act. The figurative nature of this interactive walkabout act makes it able to be the perfect entertainment to integrate into the organization of events for an all ages and origins audience. We are attending a no barrier street theatre performance, an amusing and moving street entertainment with a special musical accompaniment to create a suggestive atmosphere all around the white living statues. You will be transported into a real fairy-tale framework. The elegance of white living statues entertainment gives the possibility to choose this street entertainment for all contexts, from ceremonies to anniversaries, from weddings, galas, to shopping nights, to promote every locations and street artists events as well and, for special Christmas events, also as unforgettable Christmas entertainment for cities and malls events.