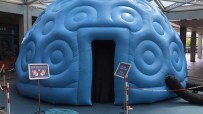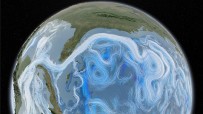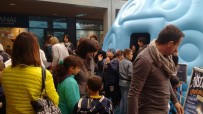 Special science dome for immersive experiences
A professional mobile planetarium, a science dome ready in 2 hours with amazing immersive projections about space, environment, ecology, biology, and history
Video
Mobile planetarium
Rent a mobile planetarium
Mobile planetarium is a professional science dome thought and built for an innovative immersive experience about space travels, earth climate changing themes, human body and cell exploration and even more. This mobile planetarium is ready to perform in only two hours. In our mobile planetarium spectators witness an immersive projection that involves the observer at 360° on several levels: visual, auditive and emotional. Mobile planetarium became the hybrid immersive show experience that puts together the emotion of a spectacular performance with the amaze of discovering science . Prestige Events' mobile planetarium is the perfect solution of a portable science dome, thought to be brought to your venue. Its dimensions make it performable in any event, public or private, for company events or in schools too. Our mobile planetarium measures 8 meters diameter and 4,1 meters highn its dimensions make it perfect to be performed indoor or outdoor under a simple cover to attemp breathless immersive shows of full-dome projections that can be experienced in groups of 25/30 people together. Inside mobile planetarium, people of all ages will witness the succession of incredible immersive projections in which everyone will be transported on hyper-realistic journeys on science's world.
Mobile planetarium: videos available both in English and Italian language
Our international events company talks about mobile planetarium as a synonymus of extraordinary immersive experiences with documentaries explaining how flying, the great dream of Man, became reality through the intuitions of extraordinary scientists that we will meet during a wonderful time travel. We will continue our immersive projection with an adventurous journey to discover the coral reefs, and we will talk about ecology and climate changing making each spectator the protagonist of an engaging and unforgettable science dome experience. Our mobile planetarium is light and self-supporting (unique in their kind), and with an entrance designed without architectural barriers. The internal "full screen" section is designed for 360 ° immersive projections. Mobile planetarium is equipped with a super-silenced latest generation engine, for a zero impact on audio aspects of the screening. The choose of an immersive mobile planetarium experience, is the best, and most required, solution to provide an emotional and interactive show, perfect to amaze people of all ages during every kind of event. Choosing to gift a scientific immersive experience during your event, is the added value to make people approach science in an unforgettable way.
Mobile planetarium: unique immersive experiences
For all these reasons, choosing a mobile science dome is the perfect idea to make a unique emotional entertainment during every event. Immersive experiences are now one of the most requested entertainment for every kind of events that put their focus on original shows performances, but at the same with a great attention to content's quality and to their relevance. More and more schools and malls choose to rent mobile planetarium's entertainment for students and audiences of all ages. Prestige Events will provide you a mobile planetarium for a unique immersive experience, ready in two hours to perform and thought to reach your event in every part of the world. Mobile planetarium is a production complete in every aspect and realized by Prestige Events' Staff in every phase of your event. Together with our mobile science dome, our Staff will be at your disposal with all the immersive movies of these unique show. People of all ages will live the emotion of an unforgettable immersive experience being part of the first moon landing over 50 years ago, or trying the exciting sensation to be on the first hot air balloon's take off. All people will know the importance to be active part in a world of climate changings by exploring the importance to take care of our planet. Our mobile planetarium also propose special children's shows to involve every child into unique immersive experience testifying the extraordinary equality between human cells and stars' ones.