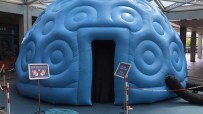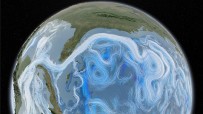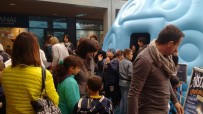 Special science dome for immersive experiences
A professional mobile planetarium dome ready in 2 hours with amazing immersive projections about space, environment, ecology, biology, and history.
Video
Mobile planetarium
Our mobile planetarium is a professional science dome and the first to be transportable all over the world and ready to perform in only 2 hours. This mobile planetarium, measures 8 meters diameter and 4,1 meters high. The planetarium dome is inflated at constant air pressure by an appropriate engine. The planetarium dome remains inflated even when people enter or leave the dome. Immersive full dome projection shows that can be experienced in groups of 25 to 30 people together. Inside the mobile planetarium, people of all ages will witness a series of incredible immersive projections in which everyone will be taken on hyper-realistic journeys into the world of science such as: space travels, earth climate changing themes, human body and cell exploration and even more. All shows inside the Mobile Planetarium are led by presenters who are passionate about space and will happily leave time to answer spectators' questions. Prestige Events Mobile Planetarium documentaries are available in English, Italian and Ukrainian languages.
Portable inflatable Planetarium Dome for indoors and outdoors
Thanks to its dimensions our mobile planetarium is light and self-supporting (unique in its kind), and with an entrance designed to break down all architectural barriers where we can welcome our wheelchair friends. The internal "full screen" section of our mobile science dome is designed for 360 ° immersive projections. The portable planetarium dome is equipped with a super-silenced latest generation engine, for zero impact on audio aspects of the screening. On these grounds, our portable inflatable Planetarium is perfect to be performed indoors or outdoors, such as malls, lobbies, squares and not to mention Schools, our mobile planetarium is in great demand by schools because this science dome not only hosts a whole class inside, but our Mobile Planetarium also deals with themes that are very valuable for schools and of great interest to teachers and students where people of all ages will live the emotion of an unforgettable immersive experience inside the mobile planetarium by being part of the first moon landing over 53 years ago, or trying the exciting sensation to be on the first hot air balloons take off. All people inside the Mobile Planetarium will know the importance to be active part in a world of climate changings by exploring the importance to take care of our planet by experiencing our Mobile Planetarium.
Christmas themed acts with Mobile Planetarium
Christmas between science and tradition to discover the Christmas star. Our Portable Planetarium will give the public the emotion and curiosity to discover the secrets of the Christmas star or better defined as the Comet Star. Many people over the years have tried to give a scientific explanation to the concomitance of the birth of baby Jesus and the appearance of the comet. With the project of the mobile planetarium, we will also discover the secret of this much discussed astral and religious theme. Christmas this year will be different with our Mobile Planetarium. Prestige Events will wish you a Merry Christmas and a good journey to discover many secrets inside the dome of our Planetarium.