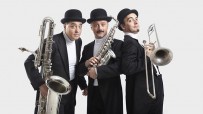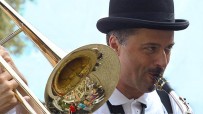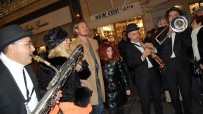 The craziest Italian brass band
The craziest Italian brass band able to dress the audience in real musical clothes. It's ideal for any event
Video
Crazy Brass Band
The funniest, captivating, and comic musical trio of the whole street entertainment panorama, is on the way to let you attend to the most original and amazing street theatre show ever seen.
This is Crazy Brass Band: the amazing interactive walkabout act made in Italy
Crazy Brass Band is the innovative and musical live show, performed by an excellent musical and comic trio, who will give life to an astonishing and unforgettable walking act performance.
History of Brass Bands' … crazy details on interactive walkabout acts
Brass Bands' origins are disputed between United States and Great Britain, but certainly, the episode that gave the impetus to the whole movement was the invention of the key trumpet, around 1810 by the Englishman Joseph Halliday, who was in Ireland as director of the Cavan Militia band.
A crazy brass band performance for an irresistible international music and comical show
Crazy Brass Band matches the American tradition of the finest street musicians' exhibition and Italian uniqueness, with an incredible and amazing international music repertoire. This astonishing Crazy Brass Band show, will amaze any kind of public through a continuous and masterful musical improvisation toghether with funny and interactive gags….. all during an unforgettable walking act.
The Crazy Brass Band and the feature unique in the world of its walking act
These fantastic street musicians are able to match a musical outfit to each person. Their ability to improvise is something extraordinary, incredible and really fun. See to believe ... here are some videos of the Crazy Brass Band. During this street entertainment walking act, street musicians of Crazy Brass Band, dressed up in evening dresses and bowler hats, will entertain streets, squares, avenues, and public events with a funny musical walking act show that will entertain any kind of all age audience.
Crazy Brass Band ... walking street musicians for a "a step ahead" show for international events
Crazy Brass Band is the marching band "a step ahead" of any other entertainment walking act, with its incredible rhythm that will match the joy of music to the fun of their comical gags. The Crazy Brass Band will involve all audiences creating a joyful and lovely atmosphere. The use of music and of its universal language will allow the creation of a street entertainment show which can be enjoyed by any kind of public and without any kind of linguistic or barrier.
Crazy Brass Band ... international walking act from Carnival to Christmas entertainment
Its great versatility makes this walking act able to be personalized and adapted to all kind of context and celebration, from Christmas to carnival, and even for any special recurrences, luxury weddings, gala dinners, private events, corporate dinners, and conventions.
Crazy Brass Band ... a special walking act for Christmas entertainment
Crazy Brass Band can also perform in its version of Christmas band in malls and centers, company events, conventions, city fairs, and white nights. Choosing Crazy Brass Band's street entertainment you'll be sure to bring a unique entertainment to your event, that will excite, surprise, and astound any kind of audience through the musical notes of three incredible, learned, and skillful street musicians.