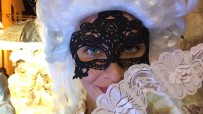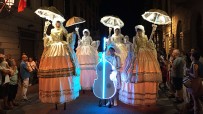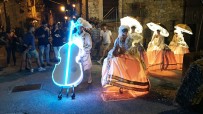 White Venice (Baroque's enchantment)
White Venice is an itinerant show of street theatre artists on stilts is inspired to the baroque period of the 18th century.
Video
White Venice (Baroque's enchantment)
The 700s magnificence and sumptuousness in a scenographic stilt walkers show parade, with clothes inspired to the Venetian Baroque and to the 18th century Venice. "White Venice" (Incanti Barocchi) is the new show realized and made by the company Prestige Eventi in Italy. This itinerant show of street theatre artists on stilts is inspired to the baroque period of the 18th century, full of fascination, scenic appeal, music and movement bringing us back to the venetian 700s. Revisited in a modern interpretation, this venetian show parade composed by 18th century's stilt walkers, is a real show parade, enriched and valorised by the use of light becoming a necessary element of an extraordinary show perfectly suited for street theatre festivals. The spectacular Venetian show parade "White Venice", is the result of a careful historic research made on clothes, on accessories and through music it accompanies the sumptuous influence of wonderful and majestic ladies on stilts wearing venetian clothes from Baroque age. Walking, those fantastic street theatre artists illuminate streets, squares, historic town centres, street theatre festivals, shopping centres, malls, giving to the eyes of an audience a luminous vision of real light contrails accompanied by music. The 18th century venetian knight who accompanies the ladies under the music, forerun the baroque show parade with a magnificent musical jewel: the modern restatement of a dazzling and luminous white double bass, realised thanks to the donation and support of the famous lute maker Scaramelli, known internationally in Italy, for his creations made for the best national and international musicians. White Venice's soundtrack is from the exceptional Rondò Veneziano: Rondò Veneziano is one of the most famous chamber orchestra in the whole world. Even if they travel all over the world, their headquarter is in Venice, in Italy. Rondò Veneziano is an incorporation of rock-style rhythm but based on the marvellous Baroque music of the 18th century. The principal composer of all original pieces is the Maestro Gian Piero Reverberi. This style of music mixed with the stilt walkers movements are astonishing for its vibration which surely will touch your emotions. White Venice is the walking venetian act composed by street theatre artists, perfectly suited for public or private events, as street theatre festival, if you want to valorise them and able to create amazement in young and old. The 700s baroque show parade, this spectacular street theatre company on stilts, with its precious luminous elements it becomes a Led light show and suggested as a Christmas animation in a town, or even as entertainment made by street theatre artists who make unique and unforgettable events as the Nuit Blanche, street theatre festivals, fairs, evening manifestations and very event which requires the wow factor. Its scenographic greatness and originality make of this venetian, baroque show an incomparable and exclusive animation for shopping centres for the organisation of unique events as a weeding. This venetian itinerant show is available in two versions: with street theatre stilt walkers or with models for sumptuous receptions.