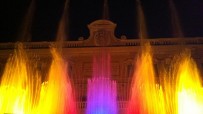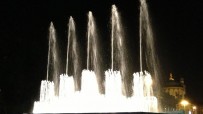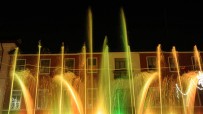 An amazing Water Show with Fire and Music
Water Show and fire has always been opposite elements, but now they are getting together for giving birth to a rare and elegant show...
Video
An amazing Water Light Show with Fire and Music, unique in the world, ready to start in only 4 hours
Water Show with Fire and Music
The first traveling version of the most amazing show of water effects, fire, lights, and music ever seen. Without any doubt "Water and Light Show" is one of the most amazing and evocative musical show ever seen for its originality and magnificent. Its nature reminds the most famous water and light show in the world: "Dubai Fountain", which attract millions of visitors every year thanks to the extraordinary beauty and majesty of its water and lights effects with music.
We can bring this great water and light show anywhere and reach any destination. It is transportable on TIR and can be ready in 4 hours. The show is all-inclusive, on-site we need just electricity and water.
We have studied engineering water and light shows with a modular system to transport these water effects shows on the road, to reach any location, and to create water effects shows with different dimension show fronts. So now it's possible to realize Water and Light Show in any location, in public square's events or in private exclusive weddings, in special City Nights, Festivals and in big Malls too. With this show system we are able to meet each customer needs, even the most particular ones. All our water effects shows are transportable and can reach all destinations in the world.
The development of a modular front of water effects show allows the creation of a perfect Aquatique show front for any circumstance and place, even where there aren't fountains, lakes, and bodies of water on site.
We are also able to create water, fire, and light show in music, customized for each special event, both public and private.
If your desire is to try the great emotions of water, lights, and fire show in your City or for your special event, we will bring it to you and let your dream became true, everywhere you are!
The dimensions of our Water Light Show can be varied in the width of the show front. There is water and light show of medium-small dimension, whose show front is 10 meters wide.
Then we go to a medium-large front show of the aquatique show with tanks of 16-20 meters wide.
Finally the new and giant Water and Light Show in fixed plant where water effects can even exceed a hundred meters, up to the modern aquatique shows realized with floating water effects front made with assemblable modules that create customized lengths for a Guinness World Records show of water, light, and fire.
The water games that compose water shows are normally positioned inside the tubs, immersed in the water and activated by very powerful immersion pumps and by electronic mechanisms that control the opening, closing, and pre-set movement. There are hundreds of types of water effects that, with appropriate and studied combinations, manage to form dancing water effects shows of rare beauty.
The great engineering contribution also results into the top aspect of this water and light show, the synchronization of the water effects with music.
Through a sophisticated electronic synchronizer of latest generation, it is possible to operate one or more water jets simultaneously, or to create particular movements of water effects to choreographically follow the rhythm of a musical track programmed and interpreted with great skill. The synchronizer also allows developing suggestive combinations of lights positioned inside the tubs and on the surface of the water. In the same way it controls all the important effects that make great like nothing ever this water light show: natural fire, integrated pyrotechnics and projections on water screens.
We constantly introduce innovations in our water effects shows and we can certainly define water and light show as the perfect combination of amazing and always current effects, a perfect condensation of water effects, fire, pyrotechnics, music and technological innovations.
Water and light show is the result of the fusion among the use of advanced technology of latest generation, extraordinary cinematographic effects and the constant introduction of engineering innovations. It's a successful concentrate of elements that allow the creation of ever new and very high emotional impact performances for the public of all ages.
All the elements that make up the water and light show join to make these water effects show the perfect solution to amaze the public of all nationalities and ages. It is the most suitable entertainment show for the opening of gala events or the conclusion of important institutional celebrations, cultural events or city celebrations through the choose of a majestic show.
The water and light show is the most suitable show for the highlight of your exclusive wedding. We suggest the water effects show to offer your wedding guests an exceptional show that will make your event unforgettable.
All our Company water and light shows have been designed and built to be transported, reach all destinations and enhance any type of event.
They are set up by our professional staff and are ready for performance in just four hours.
Water and electricity on site are sufficient to be able to organize and attend a fantastic show able to excite young and old with a universal language made of music, light, color, and dance of synchronized water effects.
With water and fire show you will make your event unique and exclusive, bringing Italian refinement and excellence as the final touch of an unforgettable and special night.