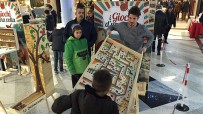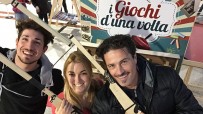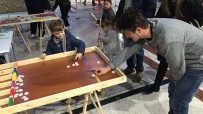 The best traditional wooden games
Over 30 unique pieces of traditional wooden games for events. They're handmade and are fun to entertain the whole family, available for events worldwide
Video
Traditional wooden games for events
Our Grandparents' games, also called traditional vintage toys, a beautiful collection of wooden handmade toys, became unforgettable street entertainment for kids in events aimed at families. This particular traditional toys' animation results from a long research work that crosses Europe, from North to South, with interesting interviews to Grandparents about their traditional toys.
with the traditional wooden games the whole family plays
From this in-depth research on the most popular games of the past, was born this engaging and fascinating street entertainment for kids and families. A true condensate of history, artistic craftsmanship and fun, which gives everyone a dip in the past, bringing adults and children back to the carefree moments of childhood. The wooden vintage toys' collection will amaze events for children and the family, a real street entertainment that involves eyes and heart, entirely handmade in wood, with careful craftsmanship and decoration.
As in popular tradition, traditional vintage toys are the same grandparents' toys and are simple pastimes that require speed, dexterity, imagination and no child is excluded. With this animation for children, socialization and being together also between different ages is promoted. Just as in the past, with vintage toys' collection, adults teach children the rules of traditional wooden toys by creating a moment of healthy sharing between parents and children, between grandparents and grandchildren thanks to the use of simple materials becoming irresistible wooden toys.
Traditional wooden games collection: perfect street entertainment for any event
The intent of vintage toys collection, we loves talk about this lovely street entertainment as traditional toys or wooden toys too, is to keep alive the memory of popular tradition popular toys with a real animation show for children perfect to amaze Malls, fairs, buskers festivals, parties and of all events dedicated to tradition and for education entertainment aimed at schools.
Wooden vintage toys collection allow young and old to try their hand in pairs or in teams in exciting competitions of skill and precision. Here is a list of the most beloved wooden toys. They are part of our traditional vintage toys collection of handmade craft toys:
wooden toy of the nutcracker

traditional toy of throw to the can

the handmade toy of manual wooden pinball

the vintage toy of wooden towers
but you can also play exciting games with the handmade wooden soccer, without forgetting the vintage interlocking puzzle and the timeless wooden constructions for the little ones.
Traditional vintage toys collection is the interactive animation for children in which spectator is involved and becomes protagonist of an entertainment that has a flavor of past, but always extraordinarily current and fascinating for the public of all ages.
wooden games: animation of 100% made in Italy creativity
Vintage toys collection is a journey back in time to rediscover one's roots and that past made of fun and socialization, a moment to strengthen the bond with one's identity which turns out to be common to many peoples, because the language of the toys of the past and fantasy, is universal, that's why it is important to remember and keep the tradition alive in the handover from grandparents to grandchildren, from parents to children
Historical notes about vintage toys
Traditional wooden toys, known also ad grandparents' toys, were practiced in the open air, in squares and courtyards, they were simple pastimes that required speed, dexterity and lots of imagination and no child was excluded. Most of the popular traditional toys favored socialization and being together also for different age groups.
Vintage toys: 30 unique pieces handcrafted by hand
Adults taught the rules of traditional games and children applied them, even learning to build toys from simple materials found among the woodworking scraps, by their aunt seamstresses, in the kitchen or in the cellar. Traditional vintage toys were also built with cork, wood, cloth, paper, cardboard, caps, buttons, tin cans becoming toys with which you enjoyed yourself and in groups. With this traditional animation for children and families, we want to keep alive the memory of these wooden and traditional vintage toys, recovering this wonderful collection of popular Italian games.
Technical needs of vintage toys
There are no special technical needs if you choose the entertainment of wooden vintage toys. With grandparents' traditional toys collection you will animate your event with a very versatile show solution and the set-up is suitable for squares, streets, villages, grass meadows and Malls too. In case your event is an evening one, general lighting is required.
Vintage Toys Set up: simple, fast and available in Italy and abroad
Collection of over 30 wooden vintage toys 100% handmade in Italy of the Italian tradition, set design (2 banners of 1.80 x120 m) background music. Vintage Toys Collection is thought to move on wheels to reach every destination in Italy and abroad.