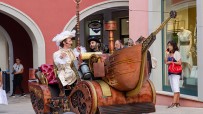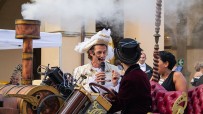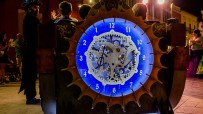 A steampunk street entertainment talks about time travel with a walking act
A steampunk walk act, full of light, sound and theatrical effect for an original street entertainment for events
Video
The Steampunk Show, a real Time Machine for a great street entertainment
The Steampunk Time Machine … A. Einstein's theory becomes a street theater walking act!
The theory that revolutionized the concept of Time is now an extraordinary steampunk walk act full of special light and sound effects: the Time Machine! With its large light clock that marks Time in a way out of ordinary logic, with the beautiful artistic profile of a nineteenth-century galleon that moves into time following a line of light, with the guarantee of being able to travel through time with imagination and not only ... the Steampunk Time Machine is the street entertainment perfect for any event organization and for audiences of all ages and languages. Have you found the good idea of entertainment for your events? Is this walk act the one you are searching for? Need more details? Our events planners Team is at your disposal!
Call us or send a WhatsApp
+39 349 7320494
A walk act born from
a Prestige Events Management Company idea
for steampunk festivals and
corporate events organization
With the Steampunk Time Machine, young and old can experience the emotion of boarding and being part of a great visual street theater show made of moving sounds, lights, and colors.Once you get on this extraordinarily moving vehicle, all people can travel the streets of the city and cross the squares of events and street festivals, trying the suggestion of a travel through time and being able to meet famous people from the past as well as being able to discover what will happen in the future…. all these incredible experiences being part of an unforgettable street entertainment
The Steampunk Time Machine is one of the walking act built in Prestige Events labs. During the design phase and the construction of the Time Machine, Prestige Events creative and planners Team used the Steampunk style and this brought It to realize a Steampunk street entertainment that takes to mind Victorian London and the Herbert George Wells novel, that inspires this street theater show.
Travel through time now is possible
with the Steampunk Time Machine walk act!
The great attention to detail and the use of a large number of special sound, light, and film's special effects are the characteristics of Prestige Events in all creations of street entertainment and theater shows. Each production is designed to organize outdoor events or for Malls' animation, each show parade it's thought for a daytime theatre show or as a walking act for a night event where It's possible to take advantage of the awesomeness of light effects for an original and unique street entertainment show.
The inspiration that moved Prestige Events Planners and Creatives to the production of our Steampunk Time Machine was to give life to a legend. Something that everyone knows, that everyone talks about but that nobody has ever seen ... at least until now!
With Steampunk Time Machine, Man's dream finally becomes reality. Traveling in time is possible, going back to the past is finally possible, browsing in the future is no longer science fiction, but fantasy in a walking street theater act. Are you ready to go?
Call us or send a WhatsApp
+39 349 7320494
Just a taste of this incredible
street entertainment for you…
wherever you decide to organize your event!
You are seeing a walking act in perfect steampunk style, a street entertainment made by a walking Time Machine on which people have also the chance to board on and travel with imagination ... and with the help of our Time Traveler. This eccentric Character, also in steampunk clothes, travels with his Time Machine wandering through the centuries. He sets the date on the dashboard, orients the flow generator, synchronizes the biometric clocks, and leaves to go back to the past or jump into the future together with his passengers. Prestige Events Team built this street theater show to allow it to reach any destination. The Steampunk Time Machine is transportable on wheels, can reach and be performed in any location or event, and this street theater show is ready in only an hour without special needs on site. With the Steampunk Time Machine, people of events and festivals, Malls or public and private events will try the real emotion of a walking act unique in the world, remindful the most famous science fiction films of all time and which on request can be customized according to needs of each customer, even the most particular.
Customizable street entertainment!
The sound amplification allows us to introduce a musical personalization during this walking street theater act, or to create an involving street entertainment with professional actors on specific themes. Prestige Events Team is, therefore, able to customize the Steampunk Time Machine based on your request and make it an even more exclusive and unique street theater show, yours!
Call us or send a WhatsApp
+39 349 7320494
Steampunk Time Machine's walk act
and the secret of Christmas Night!
With this spirit, Steampunk Time Machine has already achieved important awards such as the one conferred in the European Parliament its participation in an important project on climate change or its presence for the Christmas opening in Eurovision Tv. Steampunk Time Machine is also the perfect walking street entertainment for a Christmas Night animation in Cities or Malls. It's thanks to the Time Machine that children all over the world find gifts under their Christmas tree in time to be discarded. But shhh It's a secret! As all unique and original productions, the Steampunk Time Machine is a perfect street theater show for the animation of any event, from Christmas to Halloween Party, for a Corporate Event or for a street entertainment show in Malls. Its itinerant nature makes it perfect also for buskers festivals and events that include street show parades such as city shopping nights or with carnival floats without forgetting Steampunk Street Festival and historical reenactments where time travel is the protagonist.