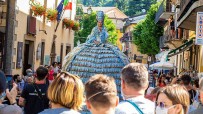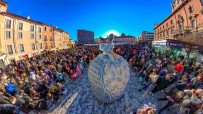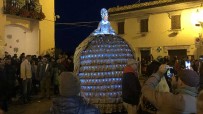 Italian opera singer Madame Opera
Madame Opera is an Italian opera singer, the new walking act made in Italy, a street theatre tribute to the world-famous Italian Opera, available worldwide
Video
Italian opera singer
Madame Opera is one of the most original and complex street theatre show among the several street art creations made by the International events company Prestige Events in her thirty years of history. Among street theatre performances, Madame Opera is certainly the most sublime. With this special walking act, Prestige Events wanted to decontextualize Italian opera singer from its traditional context: the theatre stage. The idea is to make Italian opera singer a real heritage for all people, by transforming it into a unique musical and walking act of street theatre. That's why Madame Opera was born, a unique walking act inspired to Italian opera singer music. Thanks to this walking act production, it's made possible to fully appreciate the Italian opera singer theatre for a wider audience of all ages and languages out of the classical theatre stage. If you are searching for an original walking act, you have found the best one! Call our international events company to know more about Madame Opera.
A technological walking act of street theatre, a fantastic alternative to walking acts on stilts
Madame Opera is a concentrate of technology, robotics and artistic handwork within street theatre shows production. At the same time, this wonderful street theatre show wants to be a tribute to Opera music and Italian "bel canto" too. Madame Opera is almost 4 m high and she's based on a radio-controlled walking structure that moves on wheels. This complex artistic handworks structure, allows the great Lady to walk slowly and majestically, confirming its walking performance, the typical trait of the most required street theatre performances. Precisely for these reasons, Madame Opera is a fantastic alternative to walk acts on stilts.
Madame Opera: the great Italian opera singer
Are you thinking about a new original Buskers' Festival but you need support to organize it? Don't worry! We are a Staff of Events' planners specialized on street theatre shows production and we are at your disposal to share with you ideas and fantastic walking acts and street theatre shows for your event!
Italian opera singer Madame Opera: an unprecedented wow effect for a unique walking act with music and light
Her rich costume is the result of a careful historical research followed by the meticulous tailor-made reproduction of a real Baroque style dress made in Italy by the hand of great professional costume designers. Also, the magnificent costume of Madame Opera is enriched by the precious and shining stones that amplify her great suggestion. She becomes a Italian opera singer
walking act with an unprecedented and unrivaled "wow effect" never seen before in entertainment shows of street theatre! Her precious skirt, almost 3 meters wide, hides the sophisticated radio-controlled system that makes Madame Opera walks on the streets with a beautiful show effect. In squares, it's possible to see Madame Opera singing 360° for a special "emotional gift" to her audience. The "wow effect" is a typical trait of all street theatre show creations made by Prestige Events, our international events company based in Italy. At the same time, this great attention to the emotional side of a walking acts of street theatre is the basic principle of each street theatre show worthy to be called that.
A walking act that performs also in rotation like an ancient big Carillon with the magic of light
Italian opera singer Madame Opera walking act is thought to be performed on move for a walking and musical entertainment along streets, city alleys, and squares. At the same time is possible to see people amazed while they're watching Italian opera singer Madame Opera during her "magical singing in rotation". During the rotating street theatre performance, people can admire Madame Opera singing like a big ancient musical Carillon perfect for every city event. And in the evening the magic… Madame Opera becomes completely shining. Thanks to a customized and exclusive lighting system You will see wig, dress, skirt, and other scene objects, glowing in the dark for a walking act enchanting from every point of view like never before. The result is the total charm of people amplified by the emotions of the most beautiful songs of great international Italian opera singer repertoire, masterfully performed by the wonderful voice of a professional Soprano Singer.
A jewel among street theatre walking acts, a great Italian opera singer repertoire … Ladies and Gentlemen the Italian opera singer Madame Opera
Italy has always been the symbol of excellence in the world for Opera as shown by a large number of Italian lyrical talents recognized worldwide. It just thinks about how important Italian opera singer Artists as Enrico Caruso, Luciano Pavarotti, Andrea Bocelli, never forgetting the great talents such as Vittorio Grigolo or the famous Italian opera singer Trio "Il Volo". Walking acts and musical street theatre shows have always been one of the most required entertainment solutions appreciated by the public of all age people. Madame Opera is the perfect fusion between these two kind of entertainment, Opera and street theatre, with all the suggestion of both kind of show. For this reason, Madame Opera is a real jewel to animate the most important events with a unique walking act, a Christmas night in the city, or as spectacular entertainment for Malls or for Corporate Events too. In every kind of event, she always ensures the great amusement of old and young. With Madame Opera you can take on the scene of your events the wonderful fusion between the Italian opera singer tradition and the infinite possibilities that new technologies allow togheter with the power of walking acts. You will admire a condensation of past and future that turns into a poetic fusion with the undisputed value of 100% Made in Italy. All this will be the sure success of the unique and unforgettable event... yours!