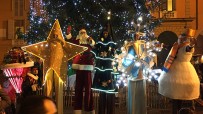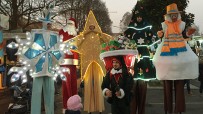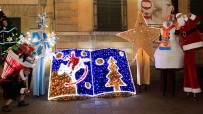 Christmas parade on stilts
Christmas' symbols take life in this unique and amusing itinerant parade, composed by street artists performing on stilts, who are going to impersonate Santa Claus and Christmas' protagonists.
Video
Christmas parade on stilts
The Christmas stilt parade is an entertainment and living show performed by street artists, who are representing the part of the most famous and beloved Christmas' characters, and giving life to a fabulous street theatre entertainment. This characters are Christmas' emblem and will realize an extraordinary, vertical, dynamic and musical performance. Christmas' Stilt Parade is a perfect kind of entertainment, perfect in the event that the Santa Claus' Sleight causes logistical problems. City centers, streets , squares and shopping centers will be filled by this joyful theatrical show, performed by our street artists, who are going to create an incredible stilt performance and recreate the magic of youth in every spectator. Like in a fairy tale, Christmas tree, Guiding star, Snowman and Santa Claus, with the company of the Little People, will take life and go along with the public during the Christmas Shopping. Itinerant music background will create a cheerful, joyful and Christmassy atmosphere during the whole duration of the Event. Street Artists will give Christmas gifts , realizing a contact entertainment with the public as well, which is a rare and successful element in this kind of show developed in height. Our Show agency is offering a performance which is going to involve and make protagonist any kind of public, from kids to adults, with a musical entertainment which will offer the most famous Christmas carols. Christmas stilt parade is an itinerant street theatre perfect for animating ways and routes during Christmas shopping, but also for shopping centers' galleries and for all those events which need a kind of Show developed in height, because of the big amount of public. Christmas stilt parade is a musical and walking animation show, able to catch any kind of interest, from the youngest to the oldest, and to be appreciated by an audience of any origin and language. As well as every type of animation offered by "Prestige Event" Show Agency and Management, Christmas Stilt Parade can be personalized and tailor made. It is possible to modulate its duration as well as the number of street artists involved, in order to satisfy even the most demanding requests, and to always guarantee the organization of a unique and exclusive entertainment. It can also be a perfect alternative to the typical Santa Claus' Sleigh if required.