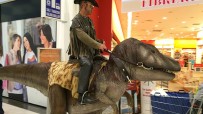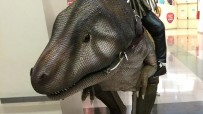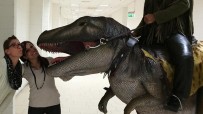 A dinosaur that seems alive
Baby t-rex is the first and unique dinosaur puppy which seems alive. Incredible itinerant entertainment show...
Video
A dinosaur that seems alive
With the realization of the Baby t-rex itinerant show, our show agency and management is finally satisfying one of the modern man's dreams: coming in contact with dinosaurs, the living species who dominated our World from its origins. Dinosaurs's world is extremely fascinating for the human species , that have always been interested in their past and origins. The important discoveries found by archaeologists, geologists and researchers, allowed us to understand how dinosaurs were, how they lived and how this species got extinguished. Jurassic Park (the movie about the incredible dinosaur park) with its incredible audience and proceeds records, guarantees how strong the wish of the man of getting in touch with alive dinosaurs is. The organization of many events and public performances about life, evolution and extinction of dinosaurs is becoming more and more frequent. Baby t-rex itinerant show is the first and unique street theatre with the first alive baby dinosaur, prototype of a young t-rex, absolutely similar to the great dinosaurs reproduced at the cinema. The realization of this incredible dinosaur itinerant show was born from our show agency and management "Prestige Events" and from the collaboration between designers and set designers of the cinema environment. The incredible realism of the t-rex during this dinosaur itinerant show makes it the protagonist in the organization of this amazing itinerant entertainment, thanks to its versatility and originality. During this entertainment show, it's possible to see a baby t-rex walking with its knight through streets, squares and shopping malls. Its reduced dimensions allow baby t-rex to easily travel around the world, and it only needs two hours for getting ready for its itinerant show. Baby t-rex has been masterfully manufactured with a great attention to details: it can walk, open its mouth, move its tail and emit the same sound emitted by real dinosaurs.This characteristics make Baby T-Rex the perfect solution for the organization of itinerant shows in shopping malls, theme parks, street art festivals and for the animation of those events dedicated to young and old audience, parties and fairs. With its incredible characteristics, Baby T-rex is great opportunity for animating your event in an original way that your audience will never forget.