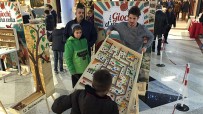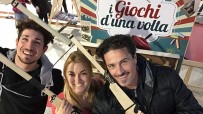 Traditional Vintage Toys
"Gramps teach me how to play!" is the greatest traditional, vintage toys collection. 100% handmade wood toys, ideal for young and adults.
Learn more...
Traditional Vintage Toys
"Gramps teach me how to play!" is the greatest vintage toys collection made to amazeyoung and old, resulted from a long research through more than one generation, with interesting cross-section interviews to the gramps from all over the world. Gramps and sons are now linked in one single place where to play and laugh. From this deepened research on popular traditions and playing with vintage toys, was born the most engaging and charming spectacle of all times. A truly and summarized part of human history, artistic craftsmanship and entertainment which gives everybody a dive in the past taking back to childhood children and adults. "Gramps teach me how to play" is an event thought for children but even for the entire family, it's a spectacular show for your eyes and heart which was entirely handmade wood with an extremely accurate handicraft and decorative work. Like from the tradition, these vintage games are simple diversions which requires dexterity, fantasy and no child will never be excluded. With this animation, socializing and being together between different ages is now promoted. Indeed, as in the past, will be the adults to teach the kids how to play causing a nice moment of share between parents and sons, gramps and nephews thanks to the use of simple materials which become wonderful and marvellous toys. What we want to make you feel with this show is the will of maintaining alive the memory of popular games tradition with a truly entertainment show for kids, surely ideal for the animation in Shopping centres, local fairs, festivals, celebrations and all the various recurring events, for square events or as educational animation for schools. Young and old will be able to participate with friends and cooperate in group in enthusiastic skills or precision challenges shooting the cans, playing with a manual flipper or building wood towers, with the skill game of the nutcracker or the table football and then moving to brain-teaser games and wood construction for the younger. Gramps teach me how to play is the extraordinary event with traditional toys where the spectator is directly involved and becomes the protagonist of an entertainment with another time taste, but always extremely current and fascinating for every age audience. We'll travel back in time going to discover again our origins but above all our past made of entertainment with the awareness of socializing, this we'll be a moment in order to strengthen the bond with our identity which is in common all over the world, because play's and fantasy's language is universal and son of its own time, this is the reason why it's very important to remember and to maintain alive the tradition during the passage between gramps and nephews, from parents to sons.