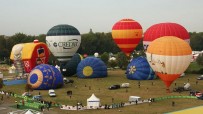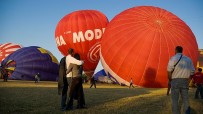 Hot Air Balloon festivals
Hot Air Balloons: Air giants which fill up the sky like in the most beautiful adventure novels...
Learn more...
Hot Air Balloon festivals
Hot air balloons festivals are extremely appreciated and cherished by any kind of audience, without any kind of cultural or age obstacle. Ballooning festivals preserve their fascination and beauty as time goes by, and have the characteristic of piquing the audience's curiosity and fantasy. Thanks to its big dimensions and shapes, and to its majestic scenic design, Hot Air Balloons Festivals are perfect for outdoor locations with big dimensions. A lot of public and private costumers choose the organization of Ballooning events because of hot air balloon's capacity of attracting public and tourism, guaranteeing high participating flows to the event. What is the secret? Certainly hot air balloons' ability of reminding about those adventurous travels taken in the most famous novels (such as Jules Verne in "arund the world in eighty days") that everybody read. The organization of Hot Air Balloons Festivals requires big spaces, depending on the number of aircrafts involved in the show. A Ballooning gathering always guarantees an extraordinary entertaining, animating and attracting effect, able to value cities and urban spaces with unusual and original shows and entertainments. Hot Air Balloons Festivals is a great event , whom organization offers many entertaining and animating efforts, which are completely eco-friendly and without any impact on the surrounding environment. Hot Air Balloons have many ways to become familiar with spectators, and so it's possible to create many diversified animating efforts, for any kind of age and type of public. By virtue of the great versatility and attraction strength, Ballooning can be considered the show "par excellence" between those which can be realized in big locations. Any kind of audience can try the extraordinary emotion of tied flights, or the incredible beauty of a free Hot Air Balloon ride. It's also possible to observe the extraordinary sky filled with colours and shapes, when all of the Hot Air Balloons take off together. Hot Air Balloons gathering also have a nocturnal version, with the Night Glow version. The organization of a Hot Air Balloons gathering is synonymous of organizing an astonishing and breath-taking event, something that cannot be described, and which can only be comprehended by trying it. Just like Leonardo Da Vinci said: "For once you have tasted flight you will walk the earth with your eyes turned skywards, for there you have been and there you will long to return." Thanks to all these incredible characteristics, our Show Agency and Management suggests hot air balloons festivals as the perfect entertainment for public and private costumers, in order to value square parties, big institutional events, exhibitions' inaugurations and white nights. Ballooning is also the perfect solution for tourist events, flight festivals and ecology celebrations.