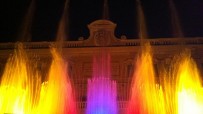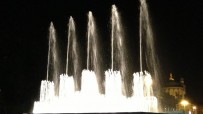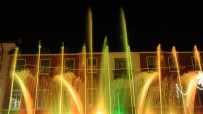 An amazing show of water and fire
Water and fire has always been opposite elements, but now they are getting together for giving birth to a rare and elegant show...
Learn more...
An amazing show of water and fire
The Dancing Fountain Show is certainly one of the most astonishing and astounding shows ever. Our Dancing Water Fountain show is completely Made in Italy, and its main characteristic is that of being "mobile". This means that the show can be carried to any place in the world, since it has been erected on the top of a trailer, and guided by an engine. As we arrive on the place of the show, we will only need water and electric energy. The dancing Water Fountain Show is characterized by a steel tank, whose dimensions change depending in width and depth. We offer Dancing Water Fountains in medium-small size and other Dancing Fountains in medium- big size with a width of 16-20 meters. Our Dancing Fountain Show is as good as the biggest Dancing Fountains ever: the majestic Dubai's Dancing Fountains, which every year recall millions of tourists thanks to their beauty and magnificence. During our Dancing Water Fountain "mobile" show, the water games are placed inside of the steel tank, immersed into the water and activated by powerful immersion pumps and electronic mechanisms which command the Water Dancing Fountain's opening, closing and prearranged movements. During a Dancing Water Fountain Show it's possible to see thousands of water games which, with appropriated and studied combinations, can realize water dancing pictures of a rare beauty. The main part during a Dancing Water Fountain show is synchronization. Through a latest generation, sophisticated and electronic synchronizer it's possible to activate one or more water releases at the same time, or creating particular movements on the base of a musical background, performed and interpreted with incredible mastery. During a Dancing Fountain Show, the synchronizer even allows to synchronize the lights ( placed inside of the steel tank at water level ), and other important effects such as natural fire, integrated pyrotechnics and projections on water screens. Therefore, we can define Dancing Water Fountain Show as the union of astonishing water and natural fire effects, pyrotechnics, music and technologic innovations of the cinematographic technologies . These main elements of the Dancing Water Fountain show are a perfect mix for amazing an audience of any origin, culture and language, and also for valuing any kind of event, offering a perfect kind of entertainment for open air events such as white nights, public and institutional occurrences, and for the organization of private events, luxury weddings and gala dinners. Dancing Water Fountain Show offered by our Show Agency Management has been ideated and fabricated for being easily used and already prepared for the show as it arrives on the place of the event. The Dancing Water Fountain show, performed to the rhythm of music is the perfect mobile show for the organization of an extraordinary opening or closing show that will amaze any kind of audience thank to its universal language of colours and elegance. The Dancing Fountain Show becomes like a light and water - made dress that will perfectly fit any kind of location. Dancing Water Fountain show is the element that will make your event unique and exclusive, bringing the Italian refinement and excellence that will give it the final touch for a special night.