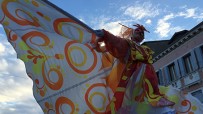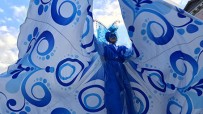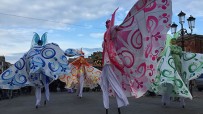 An explosion of color and music
Dancing Butterflies is an exciting stilt parade performed by street artists, filled with colours, dances, choreographies and music...
Learn more...
An explosion of color and music
Butterflies Parade on stilts represents one of the most cinematic itinerant shows performed by street artists on stilts. This itinerant parade was born in order to greet spring and summer with the arrival of their joyful colours and perfumes, thanks to the ability of masterful street artists performing on stilts. Butterfly Parade on stilts puts on the stage the most elegant and colourful element of nature, the real symbol of summer and spring: the butterfly. Soft and colourful butterflies on stilts will create an amazing entertainment show with an incredible cinematic power that will entertain any kind of public, from the youngest to the oldest. Street artists will create a joyful and emotional atmosphere with their elegant and graceful steps through streets, avenues, squares and historical centers. The big wingspread of the street artists' costumes, their beautiful and gaudy colours, and the suggestion created by classical music are the perfect elements for the realization of an amazing itinerant show, perfect for being inserted in the organization of any kind of event. Dancing Butterflies Stilt Parade is an itinerant show performed by street artists, and it's perfect for the animation and entertainment of streets, avenues, squares, historical centers and shopping malls. The universal language used by this itinerant parade, allows the creation of a perfect entertainment for every age, without any linguistic obstacle. This street theatre is perfect for the organization of events and special recurrences, private weddings, gala dinners, spring parties, summer nights and white nights. The Itinerant dancing butterflies, with their elegant movements and their colourful wingspread will astonish and amaze any kind of public and can be appreciated even during those events with a big touristic attraction, thanks to the vertical development of this itinerant parade. The classical background music will accompany the butterfly parade along its whole itinerary, and it represents the foundation of choreographies, which have been masterfully prepared by our Show Agency. Butterfly Parade is the certainty of bringing joy and happiness to your event. Its dynamic nature will bring happiness in every corner of the place with an explosion of colours. Dancing Butterflies is an itinerant entertainment show promoted by our show agency "Prestige Events". Therefore, this street theatre can be tailor made in its various characteristics, in order to obtain the organization of a unique and exclusive entertainment show in its kind.